Creating a divergence phase
One of the core principle of Creative Problem Solving is to balance Divergent Thinking and Convergent Thinking. In this article, we will see how to set-up a divergent phase in one of your stormz.
The objective of this phase is to let the participants submit as many ideas as they can while following the rules of divergence:
Go for quantity: write down as many ideas as possible
Defer judgement: don't judge the relevance of your own ideas at this step
Encourage wild ideas: do not stick to top of the head ideas
Combine and Build: build one idea on top of an other idea
How to do it with Stormz?
Create one step with a name and your specific instructions. Then set-up both the permissions and the view.
Permissions:
Check the following permissions:
Allow participants to create cards
Allow participants to edit and delete their own cards
View:
Display only active cards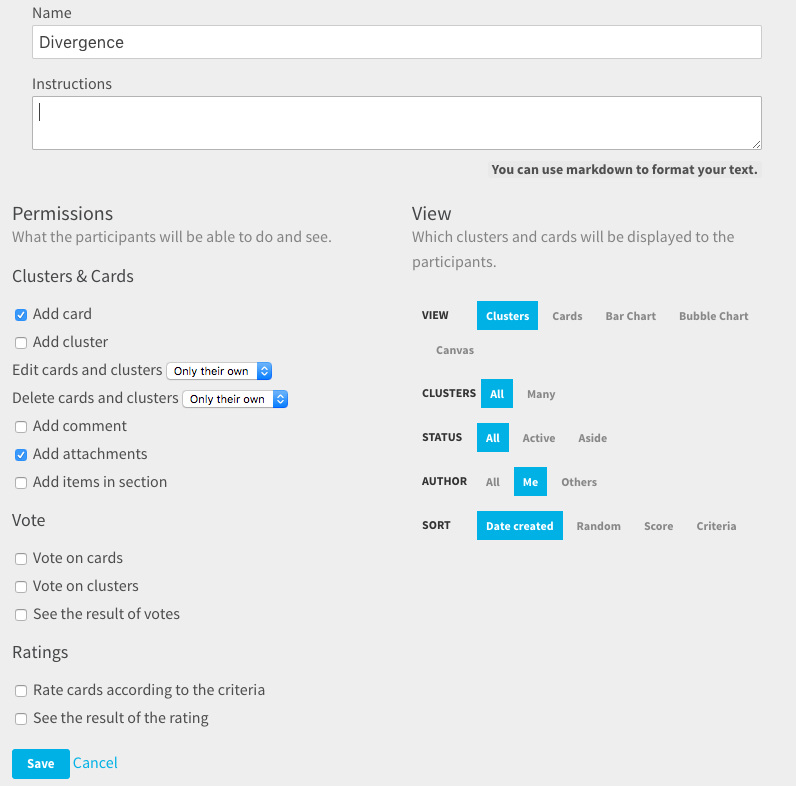 How to optimize the Divergent phase and avoid groupthink?
By default, your participants will be able to see the cards created by the others. This could be a problem as they will be influenced by others' ideas and this will lower the number of novel ideas generated by the group.
One way to avoid that is to create a two-step divergent phase. The first step will not display the cards created by others (this replicates a technique called silent brainstorming). The second step will reveal all the cards and will enable participants to build on others' ideas.
First, update the first step and change the filter author to me:
![](/images/creating-divergence-phase/step1-bis.png)

Then, add a second step where participants can add cards and see all the cards.