The facilitator can share his view with the participants. It's an effective way to show one specific card to all participants or to push a view with a new set of filters. For example, you can synchronize the card view with the setting random, so that every user will see the cards in a different order.
Show a specific card to participants
Click on a card to open it.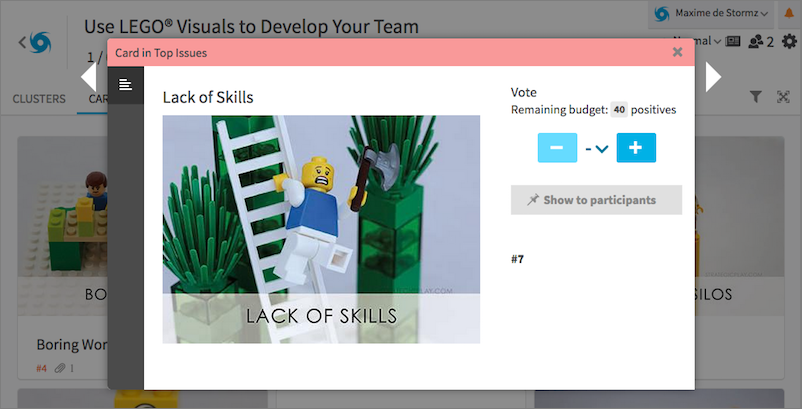 Click on Show this card to participants.
Synchronise a view and its filters
Prepare the view and filter settings that you would like to synchronise with the participants. Open the display menu and click on Save the view.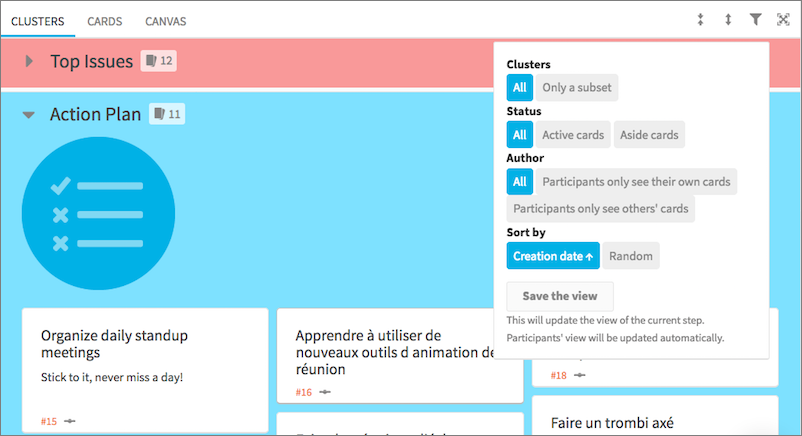 Force view synchronisation
When the facilitator synchronize his view, the behavior depends on the setting Force view synchronization by the facilitator. You can toggle the Force view setting in the workshop admin.
Behavior when Force view synchronization is enabled
When Force view synchronization is enabled:
Participants cannot change any filters
The view is automatically updated and a notification appears to inform them about the change.
Instructions are automatically displayed when a new step is selected
Behavior when Force view synchronization is disabled
When Force view synchronization is disabled:
Participants can change filters at any time
Participants can accept or decline each synchronization request.
A notification appears when a new step is selected